Special Olympics Athlete Awards 2018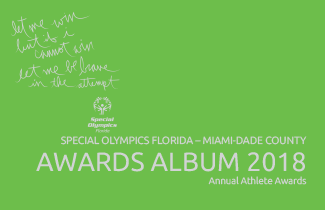 SPECIAL OLYMPICS FLORIDA – Miami-Dade County
As a supporter of Florida's Special Olympics charity, Beachcat Concepts produces the annual program book for the Athlete's Awards Gala held annually to honor those supporters, coaches and participants that are active in this chapter.
Miami-Dade County serves 6,500 athletes and offers training and competition in a total of 17 team and individual sports. These athletes are trained by 300 volunteer coaches, and are supported and encouraged by more than 1,200 event volunteers statewide. Special Olympics Florida – Miami-Dade County has over 120 local, registered training programs.
Intellectual disability does not discriminate. Athletes who participate in Special Olympics come in all ages, ethnicities and social backgrounds. However, a significant number of athletes live in urban areas and come from lower socioeconomic groups.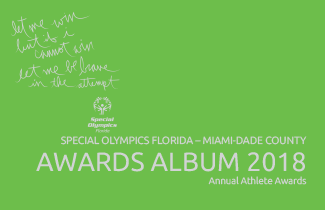 Special Olympics athletes are given opportunities to participate without regard to economic, demographic, religious, or social factors. Activities exist for those of all ability levels, from the highly functioning to the severely challenged. Anyone can participate in Special Olympics if they meet the eligibility criteria of having intellectual disabilities or a similar developmental disability. Neither athletes nor parents are charged a fee to participate in the program, Special Olympics provides free sports training and competition year-round. This is not to say these services are free, they are actually very expensive and only possible because of the support of the Miami-Dade County community. Through generous philanthropy, we can continue our mission to replace fear, stigma and oppression with possibility and opportunity for the Intellectually Disabled.
Learn about the Athlete of the Year.